This summer I wanted to read more. I wanted to open physical books and feel their pages, listen to them and what they had to say, or see their words on my phone and tablet. I got my first free Audible book and remembered what I love about listening. Since, I've spent hours engulfed in audio. Realizing that my Kindle Unlimited allowed me to listen to audio books of several of the books in my list has upped my game.
I've had a craving for stories. Not just fiction but nonfiction and stories in all their forms. I've started a few books only to determine that now is not their time for me or they don't catch my interest. I've set them aside for later. However, as far as reading goes, August has been successful.
I finally finished Jurassic Park in August even though I started in July. In my humble opinion, it was so good. I finished the last fifteen chapters in two days. I enjoyed it so much and found the movie to be lacking afterward. Every reader knows that the book is always better.
I loved the kids in the book. I loved that Ellie was so fearless. I would have liked to have seen her have a little more adventure. The descriptions of the dinosaurs were great. I did have to Google a few names to get a better visual in my mind.
Jurassic Park is the first movie I remember seeing in theaters. I remember clutching my popcorn and being on the edge of my seat, pointing and exclaiming. I was 6 or 7 at the time. Once my brother was a little older, I passed on my love of dinosaurs to him. He got his dinosaur fix with the Land Before Time movies. I still like watching Jurassic Park from time to time. It was innovative at the time of its release. It "spared no expense."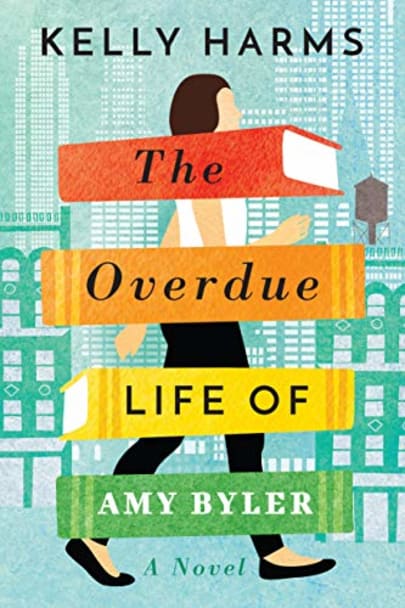 I also finished listening to The Overdue Life of Amy Byler by Kelly Harms. It was good, and I liked it. However my fears of it being very chick lit were confirmed, I still enjoyed it. I love the idea of an overworked mom getting a #momspringa.  I appreciated the relationships. I liked how the main character, Amy, dealt with things and her children. I loved that she was a librarian, teacher, and bibliophile. There was just something about the book that I couldn't love even though I wanted to. I would still recommend it to my chick lit loving friends.
I listened to the audio book of I'm Fine and Neither Are You by Camille Pagan. This one I also almost loved, but not quite. I enjoyed it, liked it, and would recommend it to ladies I know like this kind of book. Life is the bad guy and stomps around making life miserable for the protagonist. It had one twist that I didn't see coming, but after that is pretty predictable. It also came across as very chick lit as well. It reminded me a lot of  The Overdue Life of Amy Byler in that there was a New York trip and was also narrated by Amy McFadden.
I'm currently listening to The Storyteller's Secret by Sejal Badani. I'm not quite half way through and am already sure this is one I'm going to love. The story is flowing well, the narrator does a nice job, and I'm really getting attached to the characters. The story is looking to be one that is both sad and sweet. Set in India, it is about a woman who travels there to find out more about her heritage. It has a "finding myself" as well as "self healing" feel. The writing is beautifully descriptive. I've had to stop several times to highlight a line that really jumped out at me. I'll update more when I finish.
I'm also just starting to read The Opposite of Everyone by Joshilyn Jackson on Kindle Unlimited. One of my all time favorite books is Gods in Alabama. This book is already very Joshilyn Jackson. Her characters always have certain quirks that makes them more believable. That's one reason she's a great author.
I could learn a lot from her, I think.
I'm reading more and feeling more like my old self. I'm going hardcore with my nutrition so that helps. Life has been flowing these past few weeks. I'm just riding the current.
Happy Reading.